A solution to monitor your diverse networks from anywhere.

Text
With more people trading their commutes for remote work than ever before, remote network monitoring software helps you keep a close eye on your network, no matter where you (or your network) is located. Used alongside an active Intermapper server, Intermapper Remote Access discovers and monitors network technology in real time—whether it spans buildings, cities, or countries.
With Intermapper Remote Access, geographically-scattered IT teams can share network monitoring access. IT consultants and managed service providers can monitor client networks remotely. And telecommuting employees can monitor the network from home, the coffee shop, or wherever they are.
Monitor From Anywhere
Whether you're at home, the office, or off-site, you can keep tabs on network performance—and so can your IT staff—with Intermapper. The ability to monitor the network from any web-enabled device, from any location, gives your team freedom to be mobile and helps connect teams spread out over large geographic areas.
Manage Multiple Sites
Multi-location organizations will be able to map and monitor separate locations with the same power and flexibility that they monitor their immediate office. Remote network monitoring software allows you to create location-specific maps and alerts so you can ensure optimal performance across your entire network.
Secure, Safe Access
Don't worry about unwanted visitors accessing your maps. Remote network monitoring software features secure log-on and map-level permissions which protect your data and prevent anyone from seeing your maps that shouldn't be.
Image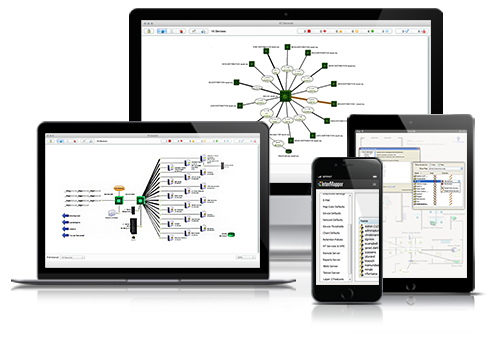 Intermapper has helped us diagnose problems and address them remotely. On several occasions, we've been able to avoid two-hour drives to network sites.
Vince Hurst, Communications Technician, Sonoma County Sheriff Department's TCOMM Bureau
Start a Live Chat
Got questions about Intermapper Remote Access? Our team would love to help you out.
CHAT NOW
Network Monitoring and Management On the Go
Perform all your key network monitoring tasks from wherever you are
Troubleshoot network issues
Open reports and status windows
Configure Intermapper servers
Remote Network Monitoring Resources
Get Started
Enhance your network management abilities with remote access for you and your staff. Request a quote of Intermapper Remote Access for your organization.
GET A QUOTE
Want to try Remote Access?
Our free 30-day Intermapper trial comes with five free remote access licenses. Get started and discover how remote network monitoring software helps your team map, monitor, and alert more effectively.
Start a free trial