Text
Prepare for future changes and keep your IT infrastructure healthy. Intermapper is a user-friendly network monitoring and management tool that lets you quickly pinpoint network congestion, analyze trends, and learn about potential issues before they get worse. From physical to virtual equipment, monitor and manage it all with Intermapper.
64-bit Application
Prepare for the future with expanded memory space
Media
Image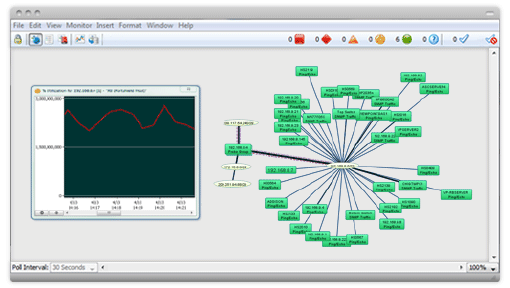 Text
Intermapper offers 64-bit support so you have the scalability and memory you need to monitor your entire network as it continues to grow. With this expanded memory space, customers are able to monitor more nodes and devices from a single dashboard, including niche devices or previously unsupported devices. Invest in your network's future by giving yourself room to grow with Intermapper's 64-bit capacity, increasing product performance and helping you manage and prepare for future changes.
Network Capacity Planning
Create the infrastructure you need for fast, efficient network performance
Media
Image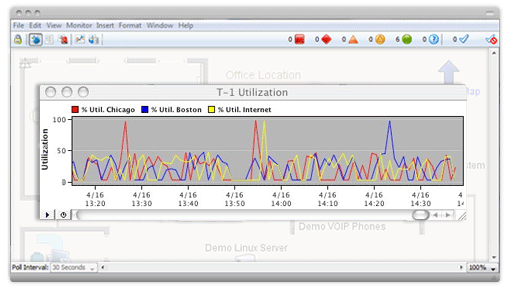 Text
The robust data collection and storage Intermapper offers give you the power to review trends and identify issues to maximize capacity planning efforts. The collected data can help to identify a range of issues, including constant high bandwidth utilization and slow network speed, or constant IP changes by DHCP.
With a network management tool like Intermapper, it's easy to access the data you need to maximize the efficiency and performance of your network.
Historical Trend Analysis and Strip Charts
Chart and report on network traffic
Media
Image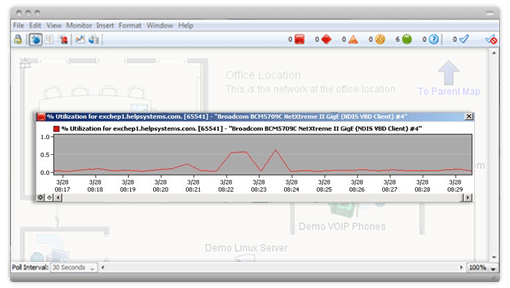 Text
As all your equipment is monitored, Intermapper collects the data and compares it to thresholds, alerting you when problems surface.
Intermapper also provides two mechanisms for viewing the data that it collects: status windows that display current operating data to help diagnose problems, or strip charts that present a graph of historical performance. Any value that Intermapper displays in a status window can be charted. Simply click an underlined value to create a new chart; drag other underlined values to add them to a chart. Charts can include network traffic metrics (e.g. percent utilization, error counts), router and server data (e.g. CPU/memory utilization, temperature), or any other data value that Intermapper collects. Scale charts to show a single day, week, month, or year.
Customizable Web-Based Analytics Reporting
Turn your network data into knowledge
Media
Image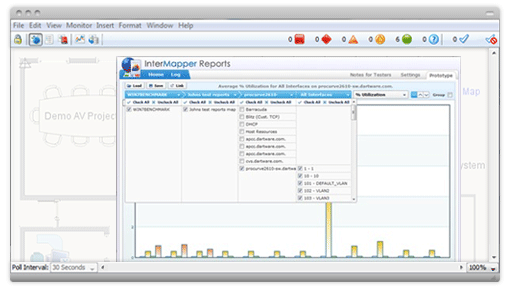 Text
In today's network-centric economy, every department within your organization has a vested interest in network performance and reliability. Intermapper Reports allows the network administrator to easily disseminate critical information. Its customizable, web-based analytics make data available to all stakeholders from the convenience of their browser.
Intermapper provides a new way to explore and interact with your network data. Our network management software makes it easy to unlock the value from all the information you are collecting. You can:
Spot trends: see short and long-term patterns to diagnose your network
Save time and money: benefit from high quality data without data cleansing or Crystal Reports
Empower your team: deploy professional-looking, dynamic reports that your colleagues can interact with
Built-in Reports
Quickly create your own reports or start with our built-in reports and enhance them with your requirements:
Average Response Time
Outage History
Down Devices
Worst Devices
Outgoing Traffic
Incoming Traffic
Slowest Devices
Short-term Packet Loss
Flexible Alerting and Notifications
Be alerted to the events that matter most
Media
Image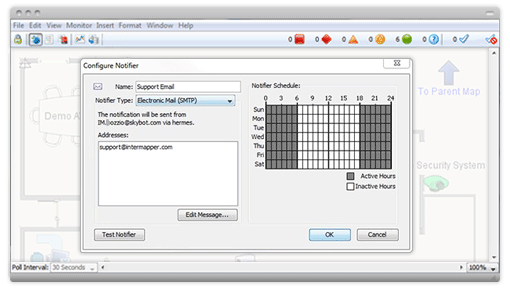 Text
Long before an end-user calls to say, "The network is down," you want to know about problems. With Intermapper, it's easy to do this.
Intermapper network monitoring software has extremely flexible alert and notification options so that you always stay abreast of the current state of problems. These capabilities include:
Alerts at the device or interface level
The ability to apply threshold settings from the parent level
A wide variety of alerting methods including sounds, emails, text messages, and SNMP traps
Notification schedules (e.g. time of day, weekend only, etc.)
The ability to assign alerts to various individuals or groups
Time delays to minimize "nuisance" alarms
Powerful escalation options to help track unresolved issues
Automatic dependencies that suppress alerts for devices "behind" a failed router or switch
The capability to build your own alerts by creating scripts that provoke action in response to failure
Every time Intermapper tests a device, it collects operational statistics. This information includes response time, packet loss, and other values specific to that probe. If any of those values exceed a threshold, the device's status will change in accordance with its severity. 
Alerts can be triggered whenever a device or interface changes status, and each status can have its own set of notifications. These notifications can be assigned person-by-person to accommodate individual responsibilities or schedule shifts, or to groups of individuals who all need to be notified of problems.
Acknowledge Conditions
Stay up-to-date on network activity
Media
Image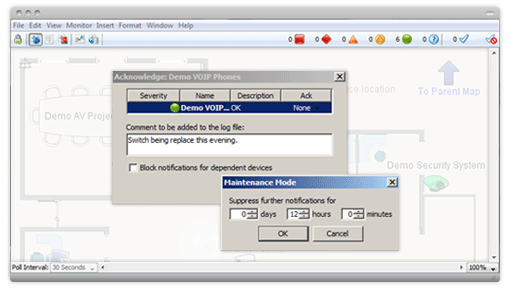 Text
When IT is aware of a certain condition and is in the process of fixing the underlying issue, technicians can acknowledge the condition to indicate that the problem is being worked on.
Acknowledging a device or interface's condition within Intermapper will:
Silence any further alerts that would otherwise be sent for the device or interface
Allow you to enter a comment that is logged and appears in the status window
Turn its icon blue and display a clock icon, indicating that it's being worked on
Pinpoint Network Congestion
Visually identify obstructions and bottlenecks
Media
Image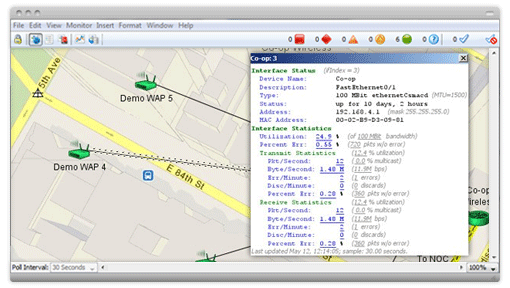 Text
Intermapper provides you with the power needed to easily identify congestion and chart the issue for trending information.
Charting data can be invaluable in determining if the issue is:
A short-term obstruction or a long-term problem
Causing packet loss or latency
A result of excessive traffic
Causing slowdowns
Get Started
Stay one step ahead of network issues with a network management tool that does the heavy lifting for you. Map your network today with a free 30-day trial of Intermapper.
START A FREE 30-DAY TRIAL
For organizations with a small IT infrastructure, our fully-functional free version lets you map and monitor up to 5 devices. It's quick to install, intuitive to learn, and easy to manage.
Download the free version