Media
Image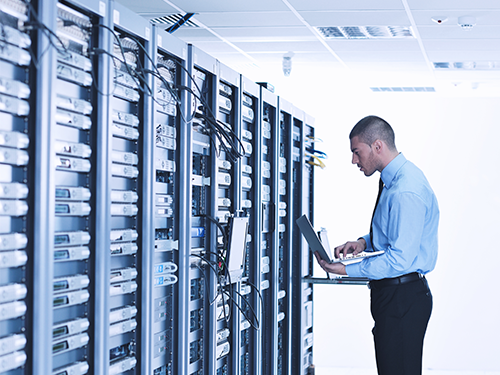 Text
From software to hardware and everything in between, technology companies are becoming increasingly reliant on their IT networks. As business transactions grow increasingly digital, giving users and customers 24/7 access to products and services is no longer an option—it is an expectation.
IT teams around the world face pressure to eliminate downtime, optimize network performance, and meet SLAs with no room for error, even as their budgets get tighter and their networks grow more complex.
As the technology space becomes more and more competitive, you can't grow or scale your business without a healthy network infrastructure. To support fast, flawless network availability, companies need reliable network monitoring solutions. By using software to map and monitor the network, IT can keep critical devices and systems up and running, improve efficiency, and plan for future growth.
More Visibility, Less Outages with Network Monitoring
Text
When users call to complain about network issues, what does your IT team do first? Unfortunately, many companies who are in the business of making people's lives easier through technology are suffering from old, outdated ways of network management that are hurting their network performance. Manual Visio or Excel network diagrams, poor response time to IT issues, and a lack of data about network health are all indicators that it's time for a change.
Network visibility is the key to solving IT issues. When you can see a device's current status, dig into historic metrics, and understand how devices are connected, problem resolution can happen in minutes—instead of hours or days. Network monitoring software gives you the visibility you need to quickly, accurately find and fix network issues.  
Intermapper is the first tool I deploy at every job I go into. It's my primary network monitoring tool and is always my first go-to point for resolving issues.

Read the full review at G2Crowd >
Alfred Tong, Sr. Network Engineer, MDA
Keep the Network Running Smoothly with Intermapper
Text
Around the world, technology companies use Intermapper as their network monitoring, mapping, and alerting software of choice. Intermapper helps these companies maximize their network reliability by providing real-time statistics into their network's health and every device within it. 
Some of our most prominent customers work for electronics organizations, security companies, and system integration service companies—areas that require industrial-strength monitoring and protection of their networks. With Intermapper, these high-profile customers stay satisfied and one step ahead of network outages or failures.
Why Technology Companies Love Intermapper
Network monitoring delivers significant benefits and cost savings
Reduce network outages
Every minute of downtime costs your business in lost productivity, revenue, and customer satisfaction—but network monitoring virtually eliminates downtime.
Monitor all your devices
From core servers and switches to non-standard equipment, keep your network devices talking with the ability to monitor any IP-enabled device.
Stop manually mapping your IT infrastructure
Hand-diagramming networks of any size can be a nightmare, so let auto-discovery quickly pull in every network device and display it on a living, breathing map.
Never miss a network event
When there's trouble brewing on the network, IT can receive real-time notifications by text message, email, or sound alerts so you can react quickly.
Monitor from anywhere
In an age of remote working and mobile connectivity, you can use Intermapper Remote Access for real-time network monitoring anywhere you or your IT team are located.
Plan for future capacity needs
As networks become more complex, you can examine past trends and evaluate bandwidth usage to make sure your future network is positioned for success.
Easily Integrate Intermapper with Other Tools
Text
As a registered Cisco Partner and Hewlett-Packard AllianceOne Partner, Intermapper is committed to easily integrating with a variety of vendors' products. Our APIs make it easy to function with CiscoWorks, HP OpenView, or other complementary network management platforms.
In fact, many customers use Intermapper as a high-level monitoring tool, combining input from several vendor-specific applications. Our Intermapper App for Splunk, for example, allows you to monitor network hardware and bandwidth utilization within Splunk. 
Get Started
Map and monitor your network for better visibility into network traffic and bandwidth utilization. Try Intermapper for free—start your 30-day trial.
START A FREE TRIAL