ORBE Advisors is a firm of professionals specializing in tax, accounting, transfer pricing, due diligence, and financial processes (such as consolidation and reporting) with sophisticated administrations that seeks to assist its clients in compliance with the Mexican tax and accounting regulatory framework. ORBE's clients are publicly traded corporations in various countries and Mexican subsidiaries of foreign companies, which use ORBE an extension of their finance, tax and accounting teams.
Text
Automation of Financial Reporting
ORBE's Financial Reporting area is in charge of creating reports with the financial information of its clients. These reports were done manually until 2021, when a new project arose that would require the team to work almost twice as long. Because of this, they considered the possibility of implementing a tool that would allow them to automate the generation of these reports. They finally found Automate, Fortra's RPA tool, as the solution to reduce their manual processes and save time.
"Before the implementation of Automate, the information was taken from CSV files to incorporate and arrange them in Excel files with a specific format. This process was done manually, by copying and pasting the information or sometimes even typing it. It was a long process, requiring the work of 3 to 4 people and taking 2 to 3 days, which was time consuming and increased the risk of human error."

Paola Vargas and Anadheli Ramírez, Financial Reporting Leaders
In Search of a Suitable Automation Tool: Automate 
Once the need for an automation tool was detected, ORBE's Business Transformation & Administration team, comprised of Paola Vargas y Anadheli Ramírez (Financial Reporting Leaders), Sandra Durán (Accounting Manager), Marco Estrada (IT Manager) and led by Martín Octavio D'Acosta Ruiz, Business Transformation & Administration Director at ORBE, began the selection process. They compared around 5 to 8 RPA tools, using Gartner's RPA Magic Quadrant as a guide. They contacted each of the selected vendors to schedule product demonstrations, learn about their functionality and get a quote.
In comparing these automation products, there were five key features that made ORBE choose Automate:
Automate is a scalable product. Martín Octavio pointed out that they were able to start getting to know the software by automating simple tasks and then growing to more comprehensive, higher-value processes. 
Automate is installed on-premise. ORBE was looking for a tool that would not be installed in the cloud to avoid possible service interruptions. 
Powerful automation functionalities without sacrificing ease of use. Compared to other tools they evaluated, they saw that Automate was a much simpler tool to use and did not require programming language knowledge. 
Increased security for their clients' financial data, a fundamental aspect of ORBE's business. The on-premise execution offered by Automate gave ORBE's managers more confidence in the protection of their data, as it does not require hosting their clients' information in the cloud.  
Personalized customer service. Throughout the sales, implementation, and after-sales process, the ORBE team received constant support and follow-up from Fortra's consultants.
RPA in Action: The Implementation of Automate in ORBE's Processes
Before starting the automation project, ORBE's managers decided to standardize the types of financial reports that the Financial Reporting area created for their clients. They analyzed the different types of reports that existed and chose the one with the most complete and time-consuming information, in order to standardize it and offer it in the same format to all their clients. Thus, they were able to offer even more value, better quality of service and security, values aligned with what ORBE seeks to offer its clients.
Then, the implementation of Automate was completed in just a matter of days. The solution was installed on a centralized computer connected to the company's network to ensure greater security. The configuration of the tool was carried out by ORBE's own Business Transformation-Informatics team with the support of Fortra consultants.
"It has been a learning process and the forums are very useful, we believe that we can still maximize even more the use of forums and training materials available"

Marco Antonio Estrada Ramírez, IT MANAGER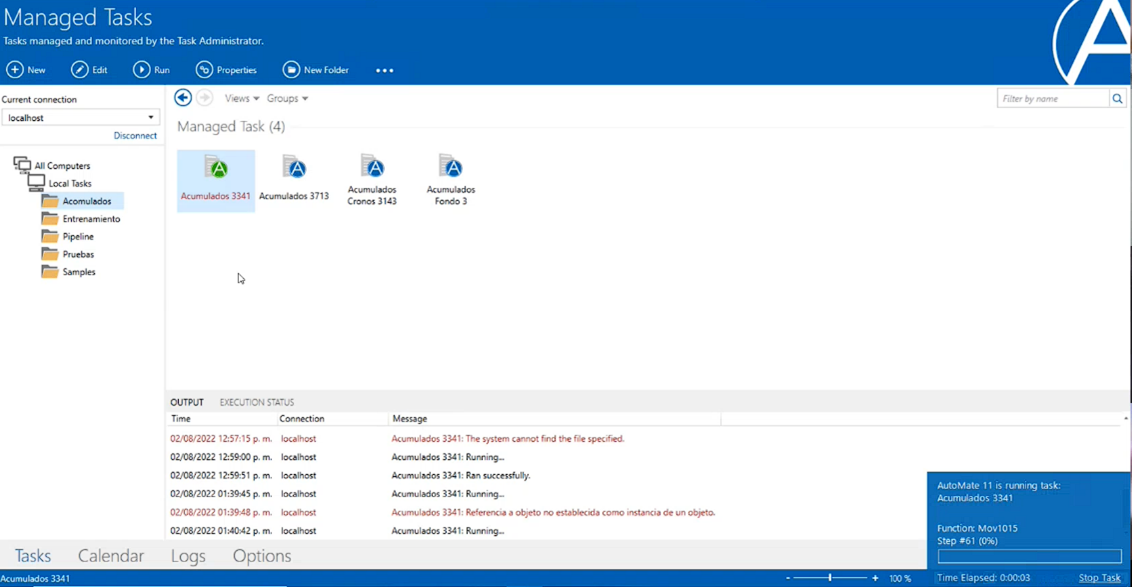 ORBE has been using Automate for almost a year and has already automated four processes. They have two daily execution routines, running at 7 a.m. and 2 p.m., which consist of extracting data from Microsoft Access using SQL statements and inserting it into SharePoint tables. 
They have also automated two other processes that users in the Financial Reporting area run on the first day of each month, which consist of taking CSV files, interpreting them and fitting them into Microsoft Excel templates. In these two processes, automation is critical to avoid any human intervention that could affect the security of ORBE's customer data and be susceptible to errors.
The Advantages of RPA Automation
Thanks to Automate, ORBE's clients' financial reports are now ready much sooner, are more complete, and are error-free due to manual operations. In addition, the company has improved the security of its clients' data by avoiding human interaction in the process and has freed up hours of work for its team, which they can now devote to higher-value tasks, such as analyzing client data.
The Future of Automation at ORBE
One year into the implementation, ORBE Advisors' project managers are very satisfied with the success and are already planning to implement more RPA projects in other areas of the company. 
"As time goes by, we realize that we can use it in other processes that we did not initially contemplate."

Sandra Durán Torres, Financial Reporting Manager, and Martín Octavio D'Acosta Ruiz, Business Transformation & Administration Director at ORBE
Automate will continue to further help not only to optimize the company's internal operations, but also to better connect with its customers by providing them with the solutions they need.
See RPA software in action
Request a live demonstration of Automate to learn how Robotic Process Automation can help you integrate different applications, save time and money, and reduce errors.
REQUEST A LIVE DEMONSTRATION