Text
Microsoft Outlook serves as a primary email communication tool for organizations today. And while it is a critical business application, Outlook also requires users to continuously monitor and manage inbound and outbound messages. With employees spending much of their working hours managing email, Outlook has become a significant drain on how employees spend their time.
How to Automate Emails in Outlook
Streamline Outlook Operations
Outlook automation, also known as inbox automation, is a specific type of email automation that offers an easy, effective way to streamline Outlook email operations. Automating emails in Outlook relies on robotic process automation (RPA) to take over repetitive email-driven tasks for both incoming and outgoing information—ensuring employees spend their time on more meaningful work. Outlook automation gives repeatable email tasks to software robots, freeing users from tedious email processes, without even writing a line of code.
Outlook Automation Examples
There are so many ways Outlook automation can be used to streamline tasks, including order entry, reports, customer information requests, and service desk requests, among others. One of the most common Outlook automation tasks is processing attachments from incoming email. Think of how often you download and process invoices within Accounts Payable. This is an example of a high-volume task that benefits tremendously from Outlook automation.
Automating Microsoft Exchange
Media
Image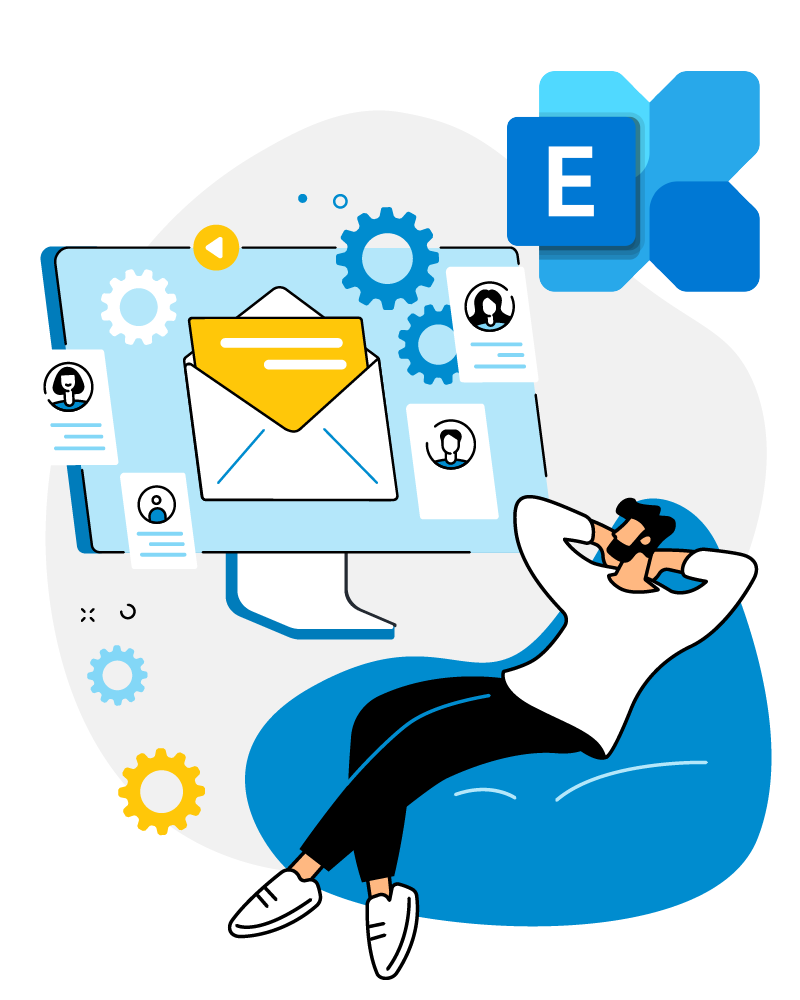 Text
Microsoft Exchange is one of the most widely used applications for email-based collaboration. Not only is Exchange reliable and secure, it's also highly scalable. Many organizations find that using Microsoft Exchange Server has increased the reliability of their email functions and has also added applications that make conducting business even easier. As a result, employees use its complementary features, including contacts, calendars, notes, and tasks, relying on Exchange to access these items.  
Automating Microsoft Exchange is an effective tool for companies to streamline a variety of Exchange-related activities, including creating contacts, retrieving tasks, and entering schedules. Exchange users can now fully automate virtually any email-related activities, giving up these manual, repetitive tasks to software robots.  
One primary advantage of using RPA to automate Microsoft Exchange is its ability to work in two directions—you can create messages, appointments, tasks and contacts, while also retrieving, modifying, or deleting messages, appointments, tasks and contacts from the Exchange Server. RPA can also monitor an Exchange mailbox for emails matching complex filter criteria. 
Watch How to Extract Email Information from Microsoft Exchange >
Integrating Outlook Automation with Other Systems
The benefit of automating inbound and outbound email actions does not stop with just Outlook. Inbox automation can also seamlessly integrate with many common enterprise systems and applications across your business. Here are a few examples: 
Customer Relationship Management Systems
Integrate data and requests captured during Outlook automation into popular CRMs, including HubSpot, Microsoft Dynamics 365, Salesforce, and others.
Help Desk Systems 
Support service requests by ensuring ticketing information from Outlook is automatically entered into Help Desk systems, including Zendesk or ServiceNow.
AP Systems 
Streamline invoice information from Outlook for accounts payable and accounts receivable into your most common accounting systems, like SAP.
Mortgage and Loan Origination Systems
Easily integrate data and documents for loan applications captured automatically in Outlook into your LOS or mortgage processing systems.
Start Automating Outlook Processes Today
Kick-start Outlook automation in your organization today with Automate—free for 30 days. 
START MY FREE TRIAL