Event Log Monitoring and Automated Problem Resolution
Text
Traditional event log monitoring solutions watch for problems and notify IT staff when a problem occurs. Some even allow a single program or batch file to be run in response. Automate takes event log monitoring one very important step further. With Automate, IT professionals can quickly build multi-step corrective action tasks. For example, when an application general protection fault is written to the Windows event log, this usually requires a few services to be restarted. With Automate, this can be performed automatically without human intervention.
The key to this functionality is Automate's visual task design system which allows IT professionals to build tasks via the drag-and-drop interface without writing scripts, batch files, or custom programs. No more driving into the office at midnight to reboot servers. With Automate, IT professionals can build Automate tasks to watch for and handle problems automatically.
Event Log Monitoring to Prevent Problems and Outages
Text
Automate takes event log monitoring to the next level, allowing a corrective process to be automatically triggered when a problem is detected. For example, Automate can trigger the task when a system or process threshold (such as CPU utilization or memory usage) is met. If available memory is too low, a task can automatically restart the entire system or specific processes.
Take a look at an Automate Event Log Trigger in action:
Automate helped us reduce data loss by 100 percent. We haven't lost any data since implementing Automate.
Marco Martinez, Plant Engineer, TransAlta
Learn More About the Automate Event Log
Media
Image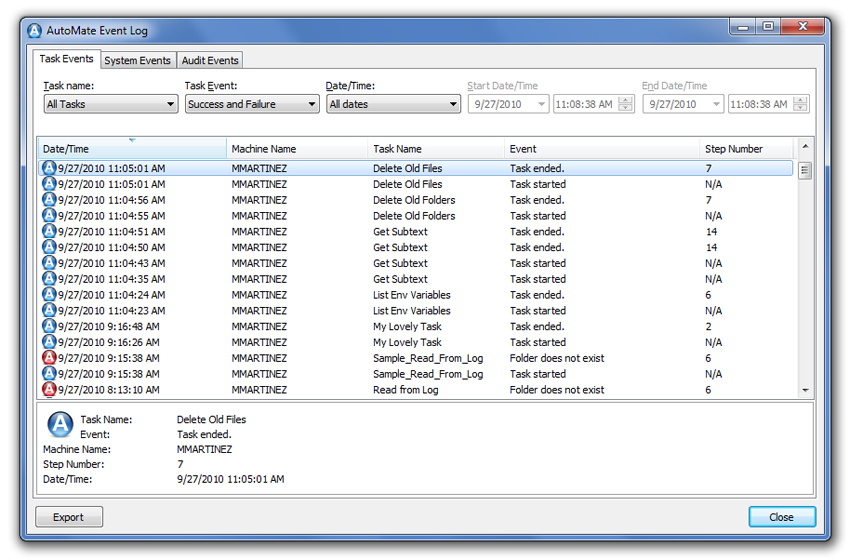 Text
With the Event Log, located in the Automate Task Administrator, you can maintain text logs that record task events, system events, and audit events. In the Event Log, you can see:
Whether a task ran successfully or failed
The date/time a task started and ended
The machine name where the task ran
And more!
More on Event Log Monitoring
Get Started
See for yourself how easy it is to monitor event logs and systems, while automatically rectifying system problems and process errors, with Automate. Try it free.
START A FREE TRIAL