Image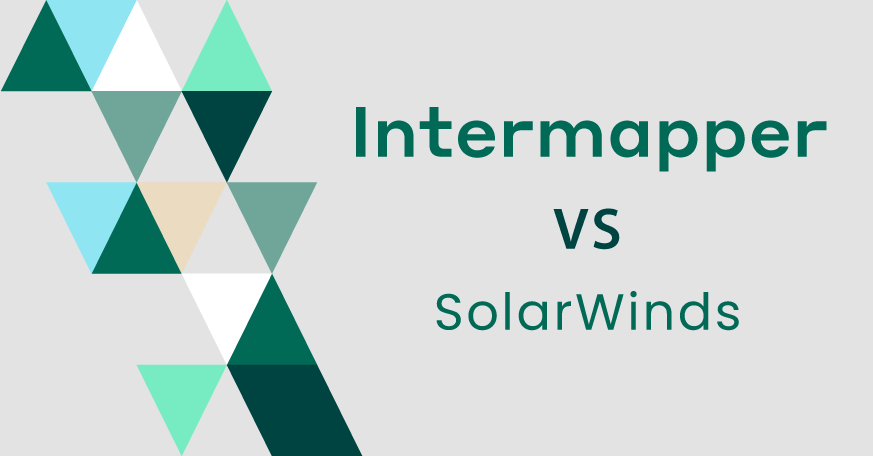 We all know people who pay big money for brand name things just because of the label attached to them. As consumers, it can be easy to think that brand name solutions know best, but this isn't always the case. Most of the time, the only differences between a brand name solution and a lesser-known version are the label and the price—not the quality. While it's important that your organization finds a product that properly fits your needs, software can be the same way. You may be drawn to the bigger name, like SolarWinds, but you might not fully understand the key differences between them and other software, like Intermapper.
What is SolarWinds? SolarWinds is widely considered an enterprise-level network management software because it performs configuration management, application management, and server management. At first glance, it might seem like this type of NMS tool with dozens of modules is what your company needs, but once you look at the price tag it can be hard not to ask yourself: is there a less expensive SolarWinds alternative that can support my performance monitoring needs?
Determining Your Network Monitoring Needs
If your company needs to monitor the health of your network, you essentially have two options: network management software or network monitoring software. Network management software will typically be more expensive and come equipped with different modules or add-on products that you can purchase to build your ideal package. There can be a few caveats to a solution such as SolarWinds: expense, Windows-only deployment, somewhat basic mapping capabilities, agent licensing, and a tough learning curve.
Network monitoring software like Intermapper, on the other hand, has none of those roadblocks and is often a better match for SMBs (small to medium-size businesses) or larger institutions that don't want a complex network management software that's too complicated to deploy and manage.
So what can be the benefit to deploying network monitoring software and going with the little guy when you have big brand name alternatives?
Related Content: Ultimate Network Monitoring Software Buyer's Guide
Advantages of Using Intermapper as a SolarWinds Alternative
1. The Price is Right
The difference in price between a network monitoring software like Intermapper and a full-scale network management solution like SolarWinds is unbelievable. In some cases, the cost can be a tenfold increase. Not only is the cost far greater, organizations find that they only use a small portion of what they pay for, whereas with Intermapper's pricing, you can maximize your usage and only pay for what you need. When it comes to managing your IT budgets, Intermapper is sold for a fraction of the cost while still providing the following functions for your organization:
Auto-discovery of all devices on your network and in-depth mapping
Ability to monitor a handful of devices or a thousand devices
Collect, export, and graph NetFlow, Jflow, and sFlow data with Intermapper Flows for easy analysis of traffic flowing across your network
Constant network and bandwidth monitoring of devices to alert you when thresholds are breached
Built-in web interface to easily view maps and monitored elements across your network infrastructure
Hundreds of built-in and user-contributed probes can poll your network fast, bringing back real-time data. Probes are designed to monitor everything from packet loss and response time to temperature and more
Custom notifications to alert you when a device is in trouble, is being worked on, or needs attention—all designed to notify you before an issue becomes a major problem that would cause a network outage
Built-in database function that doesn't require any additional database licensing
What's more, SolarWinds requires you to purchase multiple modules to create the solution set you desire; each module is priced according to your number of devices, interfaces, and disk drives. With Intermapper, the price you pay encompasses all the features of one comprehensive product, not just pieces of a puzzle you have to put together yourself.
2. Cross-Platform Functionality
In today's diverse corporate environment, many organizations are running multiple applications across disparate systems. Everyone has their unique preferences on what operating systems they like and which one they want to run their management utilities on. SolarWinds is not cross-platform; you can only run the management console on Windows. Intermapper, on the other hand, is both cross-platform and vendor-agnostic; you can run the management console on multiple operating systems and use it to monitor devices from whatever vendors you have.
3. Mapping Capabilities
One of the things Intermapper is known for is its rich mapping features, which makes it a great alternative to SolarWinds. Our network mapping software can auto-discover every device in your network and allows you to create maps with customizable layouts, icons, and geography. Intermapper integrates with Google Earth and other applications, allowing you to impose background images that present you with a geographical, hierarchical, or physical representation of your network. And you don't just get a map of the switches, servers, and other IT devices. You can monitor and map any device connected to your network: security cameras, robotics, clinical equipment, door locks, fire suppression systems, and more. To top it all off, Intermapper can map your network in a matter of minutes. 
4. Agentless
The structure of SolarWinds' licenses can be somewhat complicated when you're trying to figure out how to scale. Deploying SolarWinds requires much more upfront planning and a greater understanding of your network components; they license devices per interface, meaning if you have a device with multiple interfaces, you pay for multiple licenses on that particular device. However, their licenses do include coverage of all the network elements: managed network interfaces, nodes, and volumes.
Intermapper, on the other hand, offers licenses solely based on devices. For instance, if you had a switch with 24 ports that you would like to monitor, SolarWinds would require you to license those ports, but with Intermapper, it doesn't matter how many ports you have on a switch—the price is the same.
5. Easier Learning Curve
SolarWinds is an extremely capable application, but because the product has so many components, it's also difficult to quickly learn and implement. There are people out there that are only using one specific component of SolarWinds because they haven't even gotten to the point of learning the other capabilities. The amount of time and resources you need to be comfortable with managing the product results in a lot of time, effort, and money.
With Intermapper, the learning curve is much quicker. Instead of taking you months to be comfortable deploying and managing the product, you can start monitoring and mapping your network in a matter of minutes, and as a straightforward product, you don't need to have an extensive technical background to be able to use it. This empowers you to get to work right away instead of spending additional money on training, resources, or support. 
How Intermapper and SolarWinds Can Work Together
Intermapper's highly detailed, granular view gives you unprecedented insight into the health of your network. Using Intermapper and SolarWinds together allows you to enhance the features of both; Intermapper provides a better visualization of problems in your network, while SolarWinds allows you to react to them.
Existing SolarWinds customers that want increased mapping capabilities, a better visual representation of their network, and help with high speed polling may want to consider implementing Intermapper alongside their current product. Intermapper can use web services or APIs to hook into SolarWinds, mapping and polling your devices and then sending notifications to SolarWinds to remedy the problem. You can send SNMP traps to SolarWinds as an alert when devices aren't behaving the way they're supposed to, and then take action within your SolarWinds dashboard.
Whether you're looking to add increased mapping capabilities and high-speed polling to layer with SolarWinds, or if you're in the market for an affordable, easy-to-deploy Solar Winds alternative, Intermapper maybe just the solution you need. With Intermapper, get network monitoring and mapping that's powerful enough to provide real-time data on the health of your network.