Text
When people's lives are at stake, it's more critical than ever that your technology functions the way it was intended. And with growing networks, thanks to the many devices in the Internet of Medical Things (IoMT), it's important to have the full picture of your network infrastructure.
That's why IT professionals for healthcare providers, medical device manufacturers, and pharmaceutical companies count on Intermapper, a comprehensive network monitoring software, to monitor and troubleshoot their networks. Intermapper can alert administrators to potential issues before they cause slowdowns or outages, so you can keep your network—and patients—healthy.
Why Choose Intermapper for Your Healthcare Organization?
Find out why healthcare IT teams love Intermapper
Meet SLAs
Ensure your data center equipment that processes patient data operates with 100% reliability so you can meet customer expectations every time.
Stay ahead of outages
Keep critical healthcare services and data available by troubleshooting network issues as soon as they arise—before performance is impacted.
Analyze suspicious network events
Get quick answers of why, what, and how network traffic is flowing across your network in order to detect potentially serious issues and enhance the reliability and security of your network.
Monitor environmental factors
Don't risk equipment loss due to overheating; by monitoring hardware environmental factors, you can prevent catastrophic and costly equipment losses.
Process patient data quickly
From intake, insurance, and billing records, deliver the level of service customers expect with a fast, reliable network as the foundation of your business operations.
Make IT more efficient
Networks are only growing more complex with the IoMT. Let the software do the monitoring and simplify life for your IT professionals.
I love Intermapper. It gives me a visual to my network that no other product can.
Steven Engebretson, Network/Systems Administrator, Tidewell Hospice
Resources for Healthcare Network Monitoring
Keep Healthcare Environments Up and Running with Intermapper
Media
Image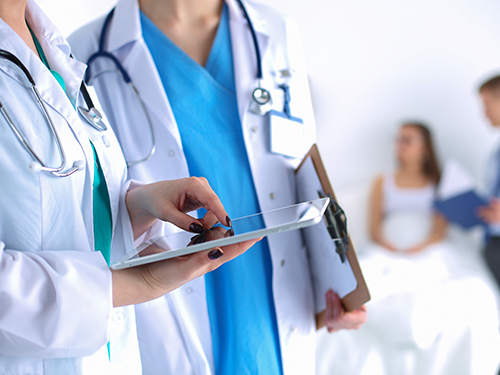 Text
With Intermapper, you can monitor for specific thresholds—everything from response time to temperature—to ensure your equipment never fails and your patient's medical records are protected. A 24/7 view into the health of your network with Intermapper helps you provide seamless patient care.
Another benefit to deploying Intermapper in the healthcare sector is HIPAA compliance. HIPAA is an important compliance mandate in the healthcare industry, and Intermapper has the tools necessary to efficiently meet these requirements.
Ensure a Healthy Network with Intermapper
Keep your network—and patients—healthy with comprehensive network monitoring software. Auto-discover everything with an IP-address—from IT and facility devices to your Internet of Medical Things (IoMT). Start a 30-day trial of Intermapper today!
START A FREE TRIAL