Media
Image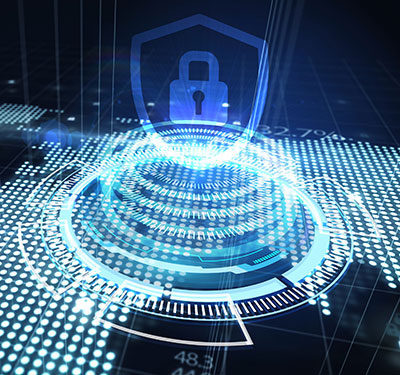 Text
There are myriad ways in which threat actors can gain access, take control, and negatively impact organizations with a ransomware attack. While businesses in every industry are working to close the gaps within their systems and workforce, the task is demanding and complicated, and many risks remain. As part of the Fortra cybersecurity portfolio, Fortra Ransomware Defense enables companies to mitigate the risk of ransomware attacks with early detection and proven prevention capabilities.
Defending the Enterprise with Layered Security
Meeting the ransomware challenge head on requires a provider that can tackle the problem from multiple angles with a comprehensive, layered approach. In addition to powerful prevention and early detection, this includes having a trusted partner to support your efforts to ramp up and run an effective security program. Fortra Ransomware Defense provides deep protection for every phase of the security journey and can grow with you as you build and maintain your security posture.
Fortra Ransomware Defense
Fortra Ransomware Defense provides organizations with the tools required to impede ransomware attacks. We partner with you at every step to ensure security success. Our solution supports rich, deep use cases tailored to your unique requirements.
Solution Breadth & Depth
Fortra Ransomware Defense was built by bringing together a suite of best-in-class security products across the protection landscape. The unique makeup of this solution allows for more advanced use cases and a deeper level of protection for your organization.
Robust Prevention
Ransomware protection starts with prevention. The Fortra Vulnerability Management solutions provide powerful protection, so your organization can get ahead of the headache and costs that come with a ransomware attack.
A Comprehensive Solution for Ransomware Defense
Data Protection
Protect sensitive information across your enterprise with encryption and needs-based access to comply with regulatory requirements. Identify and classify data and root out violations of your organization's security policy by leveraging:
Digital Risk Protection
Safeguard critical digital assets through expert-curated threat intelligence and complete mitigation against brand impersonation, data leakage, social media threats, account takeover, and other digital risks in one complete solution with:
Secure File Transfer
Simplify, secure, and automate enterprise file transfer through a single intuitive interface that enables employees, partners, and customers to move data easily without the need for programming skills. Solutions span:
Email Security
Keep emails, brands, and data protected with minimal disruption. Reduce the chance of cyberattacks starting with malicious inbound email as well as outbound data loss prevention with these capabilities:
Vulnerability Management
Identify, evaluate, prioritize, and report on security weaknesses that may be putting your organization at risk. Easy to deploy, simple to use, and scalable, these solutions help streamline your security efforts:
Offensive Security
Prioritize the risks that truly pose the biggest threat to your operations. Monitor for weaknesses in the infrastructure and defensive processes of your organization with tools that help you evaluate the potential consequences of cyberattacks:
Employee Awareness Training
Employees are any organization's first line of defense. Be sure your staff knows how to spot suspicious activity and prevent costly, damaging breaches. Empower your team members with security awareness training and assess your organization's current level of awareness and prevention with social engineering.
Business Benefits
Left Column
Growth Partnership
Fortra Ransomware Defense is an extensive set of solutions to ensure your organization is in the best position to remain secure against ransomware attacks. No matter where you are in the process of bolstering your security posture, this solution supports growth and expansion as your business and needs change.
Middle Column
Early Detection
Ensure your organization is at the forefront of ransomware security with early detection. Fortra provides companies with advanced detection that continuously outperforms other solutions, finding threats others miss.
Right Column
Managed Services
At Fortra, we don't provide you with the tools to stop ransomware attacks, we also become your trusted security ally as you scale and sustain your security ecosystem. Fortra provides a breadth of managed services to aid you in maintaining protection against attacks.