Text
Automating browser tasks is one area that can simplify administrative processes and give valuable time back to key employees. Many wonder if there are applications they may be missing, and robotic process automation (RPA) is revolutionizing the handling of routine tasks throughout organizations. RPA lets you automate browser tasks by mimicking how you would interact with a website. RPA bots can do everything from opening, closing, and navigating through browsers, extracting data from web pages, and inputting actions like keystrokes and mouse clicks.
Blog Contents:
Apply Automation To Common Website Actions
Website Actions That Can Be Automated
How To Automate Clicking On A Website Or The Typing Of A Username
See Web Browser Automation In Action
Learn About The Automate Solution
Get Started With Web Browser Automation
Apply Automation to Common Website Actions
Do these steps look familiar?
Launch the web application.
Enter username in the username field.
Enter password in the password field.
Click the sign in button.
Navigate to the reports section.
Enter the current date in the date field.
Wait for results of all reports to display.
Repeat the following sub-steps for each report:

Click on the link of the report.
Save the report to the network folder.

Log off of the website.
Doing this for just one report might only take about 10 minutes, but what happens if you have to do this weekly, daily, or even hourly? Just working with a website or web application could take up hours of your day. With the internet being an essential part of any business, website automation is vital. Automate website actions to handle important yet routine tasks like the ones above and free up your time for other, more important projects.
Do you work for a real estate company that needs to download/update current listings? Automate it.
Do you work for a hospital that needs to share lab results in a timely manner? Automate it.
Is there a pricing report you need to pull from multiple websites and turn that into a daily report that needs to be emailed to various stakeholders? Automate it.
Website Actions That Can Be Automated
Text
How to automate clicking on a website or the typing of a username
Traditionally, coding is the solution (see below). This is a VB.NET script to automate signing into Gmail. It doesn't look too complex, but it sure isn't simple, either. Especially if it means completely educating or re-educating ourselves on syntax and coding.
Image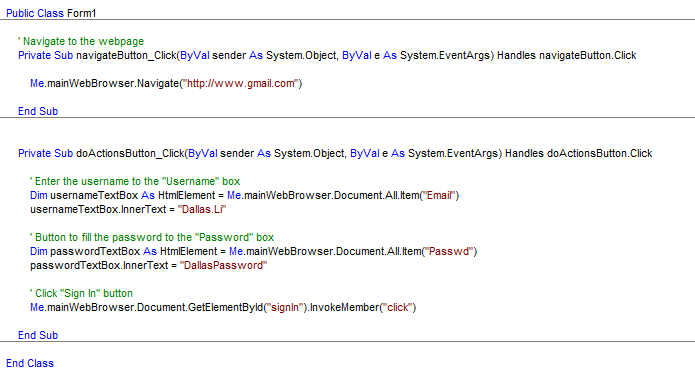 Luckily, there's a simpler way to automate web activities: Automate, the RPA solution from Fortra, has the web browser automation features you need to streamline your most tedious web browser tasks. 
See Web Browser Automation in Action
Watch how easy it is to automate your web browser tasks with Automate. 
Text
Automate comes with an RPA screen recording tool and more than 600 pre-built actions, so automation does not need to stop with our preset web Interaction actions. Like the scenario below, you can quickly extract data from an HTML table, populate an Excel spreadsheet, and upload the information to a FTP site. All of this can be automated in just a few clicks. For related examples, check out the webinar on data and web scraping. 
Image
Automate is an automation platform that extends business process automation across all areas of your organization. An IT manager might have been commissioned to make the above task just for the finance department, but with a few tweaks, the same processes can gather data for marketing, sales, or even human resources. No code means no limits—virtually any business or IT process can be automated. Automate features an adaptable, forgiving, step-by-step approach that lets citizen developers build RPA fast.
Automate Recorder: Web Browser Interactivity
Before we go into the details of Automate's web browser capabilities, let's look at how to automate login to Gmail using the Automate Recorder:
Image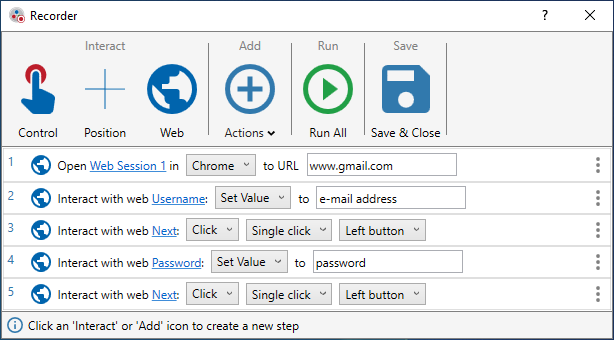 All we need are these five steps—and less than five minutes—to complete an Automate task to log into Gmail. The steps are displayed in clear language, and everything is done via screen recording, so no programming background is needed. For those who are concerned with password security, you have the option to either disguise the password or password-protect your entire Automate task.
Automate's web browser action is designed to support common web browsers like Internet Explorer, Chrome, Safari, and Mozilla Firefox, as well as to handle different types of website interaction. Automate offers a step recorder and a comprehensive suite of web browser actions to automate any web activities—from simply clicking a button to extracting data from a table on a web page:
| | |
| --- | --- |
| Web Browser Activity | Description |
| Back | Navigates one step backward in the history of the currently active web browser tab in an established session. |
| Check | Selects or clears a checkbox on the currently active web browser web page. |
| Click | Clicks a particular control in an established web browser session. |
| Close | Closes a web browser and ends a session created by the open activity. |
| Close Tab | Closes the currently active web browser tab in an established session. |
| Create Session | Creates a unique session which can be used to combine various other web browser-related steps. A session is particularly useful as a means of organizing and encapsulating a collection of activities required to accomplish a particular operation. |
| Duplicate Tab | Duplicates the specified web browser tab in an established session. |
| Extract Source | Extracts an HTML source and places the result in a variable. |
| Extract Table | Extracts the contents of a given table in an established session. |
| Forward | Navigates one step forward in the history of the currently active web browser tab in an established session. |
| Get URL | Retrieves the session's active URL and populates a variable with the result. |
| Get Value | Gets the value of a given element in an established web browser session. |
| Navigate | Navigates to a specific page URL that's currently open. |
| New Tab | Opens a new tab in an existing web browser session. |
| Open | Opens a web browser and establishes a session to associate other web browser activities. |
| Refresh | Refreshes the currently active web browser tab in an established session. |
| Select List Item(s) | Selects items from a list view or list control on the currently active web browser web page. |
| Select Menu Item | Selects an item from a menu control on the currently active web browser web page. |
| Set Value | Sets the specified value onto an element in an established web browser session. |
| Switch Tab | Switches between open web browser tabs in an established session. |
| Tab Details | Retrieves the Tab Id, Title, URL, and Domain details of the currently active web browser tab and then creates and populates a dataset with the results. |
| Wait | Waits until the browser is ready for input before continuing to the next step. |
Unlike the traditional method of identifying a button using the XY coordinates, Automate accesses the HTML elements on a web page. It evaluates or dissects a web page to distinguish each element by a unique identifier. An element can be anything on a web page: a button, a text box, a link, a table, etc. That means a user automating web interactions does not need to worry about the variation of window size or resolution—the Automate task will always find the specified button to click by that unique identifier.
Get Started
Text
See how you can automate browser actions and other processes.
Start a trial of Automate today.