What is ITIL Configuration Management?
Media
Image

Text
Configuration management (CfM), one of the components in the ITIL Service Support area, exists to identify, maintain, and verify information on IT assets and configurations in the enterprise.
CfM stores up-to-date information about configuration items (CIs) in a configuration management database (CMDB).
Not sure what CIs are? Don't worry. CIs are simply your IT infrastructure components, i.e., hardware, software, documentation, or even personnel.
What does the CMDB do? It contains pertinent information on CIs—for instance, version and location, as well as relationships between CIs.
Configuration management usually involves:
Defining the scope—the depth and breadth—of the CMDB
Identifying CIs and entering them into the CMDB
Collecting, recording, and maintaining accurate information about CIs
Benefits of Implementation
Why Should I Implement Configuration Management?
Text
Implementing configuration management helps your IT team effectively and efficiently manage assets.
Configuration management processes give IT a boost when it comes to:
Establishing a reliable repository of accurate information regarding IT components
Understanding relationships between CIs and which components impact which services
Configuration management processes are closely integrated with incident management, problem management, change management, and release management.
Data collection software makes it easier for IT teams to do configuration management. You can gather data on server configuration and use it for analytic and modeling activities.
If you don't have a CMDB, the right software can provide basic CMDB services for servers. This will help you gather and manage basic configuration information along with detailed performance data.
If you have a CMDB, you can easily extract data from your databases and import into the right CMDBs. You can even automate the export/import process to ensure the CMDB always has the latest information.
Plus, you can use the extract as an audit trail to validate all changes to server configuration were authorized. This gives your configuration management and audit teams a big boost when audit time rolls around.
Want to get ahead on configuration management? You can utilize capacity planning software to predict the impacts of configuration changes on the IT infrastructure before they are actually implemented. This permits teams to ensure changes will not negatively impact production services.
Getting Started
Left Column
Take the Next Step
Read the guide: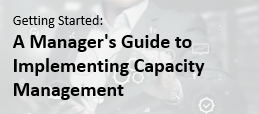 Middle Column
Explore the software: