What is ITIL Business Relationship Management (BRM)?
Text
Also known as the "Business Perspective", ITIL business relationship management is comprised of a group of people that serve as liaisons between the business and IT. And this is where business requirements are gathered and translated into IT resource requirements.
BP processes and disciplines dictate interaction methods and touchpoints between the two groups.
The people on the BP team:
Understand the business
Know their goals and future direction
Work to have the new products and services in place when the business needs them
Business perspective best practices ensure all work performed by IT has been reviewed. They also ensure total cost of ownership is understood, approved by management, and prioritized.
This is crucial to ensure that IT performs the meaningful work required to support the business.
Business Perspective Processes
The major processes included in BP are:
1. Business relationship management
2. Supplier relationship management
3. Liaison, education, and communication
4. Planning, review, and development
Text
1. Business Relationship Management
Business relationship management (BRM) is responsible for maintaining a good working relationship with the business. In business terms, this is the sales and marketing organization for IT.
The BRM team works with the business at all levels, from strategic plans to day-to-day operations, to ensure the right services at the right price are in place to satisfy business needs.
The primary goal of BRM is building a true partnership between IT and the business units. And BRM ensures the business takes a leadership role in shaping and funding services that utilize IT technologies for business advantage.
Learn how to drive business value with capacity management. Watch the webinar >
2. Supplier Relationship Management
Supplier relationship management processes guide the interaction among IT, business, and vendors (both service providers and IT infrastructure suppliers).
Through the effective use of these processes, suppliers satisfy the organization's immediate needs. And an improved working relationship ensures that suppliers provide products and services that satisfy the organization's tactical and long-term requirements.
3. Liaison, Education, and Communication
These activities are performed in relation to the business perspective processes.
This work includes tasks such as:
Educating all parties in business and IT terms
Sharing tactical and strategic plans among organizations
Educating business units on the service catalog
Explaining and clarifying service level agreements (SLAs)
Educating IT on business processes and the pressures they face—and vice versa
4. Planning, Review, and Development
These processes address the continuous improvement of the ITIL processes that the organization has opted to employ.
And these processes guide the review and improvement of IT services. This is crucial to ensuring they continue to meet changing business needs (and commission changes when appropriate).
Getting Started
Left Column
Take the Next Step
Read the guide: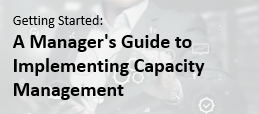 Middle Column
Explore the software: