What is ITIL Service Support?
Text
Service Support is one of two disciplines comprising IT Service Management. It encompasses the support processes necessary to ensure service quality. These processes manage problems and changes in the IT Infrastructure and are more control-oriented than technical in nature.
Major Processes
Text
SERVICE DESK OR HELP DESK
The Service Desk is the single point of focus for all IT services clients to request services and report problems. The service desk processes include tracking and escalation procedures. In addition, the Service Desk is responsible for disseminating information to the organization regarding planned outages and/or implementation of changes impacting production services.
The primary focus of Incident Management (IM) is the restoration of services following an incident. IM is primarily a reactive process; its processes provide guidance on diagnostic and escalation procedures required to quickly restore services. IM processes are closely integrated with Help Desk, Problem Management and Change Management processes.
The primary focus of Problem Management (PM) is to identify the causes of service issues and commission corrective work to prevent recurrences. PM processes are reactive in responding to incidents and proactive in identifying and preventing future incidents. Its processes are closely integrated with Incident Management, Change Management and Availability Management (AM). Although AM performs the lead role in component failure and system outage analyses, PM performs an important role in obtaining data and analyzing it in support of the studies.
Configuration Management (CfM) processes guide the collection, archiving and report of individual infrastructure component specifications. The Configuration Database is the single repository of configuration information for the enterprise. In addition to configuration information, the database contains information regarding the relationships and dependencies among infrastructure components.
CfM processes closely integrate with Change Management processes, because risk assessments must take into consideration any relationships and dependencies that may be affected by requested changes to production operations. CfM databases are also used by Capacity, Availability and IT Service Continuity Management processes to accurately perform their work.
CHANGE MANAGEMENT
Change Management (ChM), as the name implies, manages change being introduced into the IT infrastructure. ChM teams assess risks of individual changes, use configuration information to identify dependencies and other impacted applications and systems, and after analyzing the information, authorize or deny change requests. The goal of ChM is to identify application code, functional and performance defects and intercept them before customers are impacted by them. Change Management teams are judged successful when changes are introduced into production operations without impact to business units or their customers.
RELEASE MANAGEMENT
Release Management is closely integrated with Change Management. Release Management addresses large-scale changes to the environment such as installing a new database management system or managing widespread changes to a business application. As a result, Release Management is concerned with managing a large number of changes that will be introduced simultaneously into the production operating environment.
Getting Started
Left Column
Take the Next Step
Read the guide: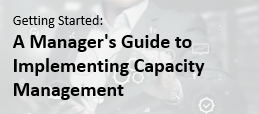 Middle Column
Explore the software: