What is ITIL Security Management (ISM)?
Text
Security Management is an integral part of the other IT disciplines. It has both a business and service focus. Through the execution of the processes, the organization will meet regulatory agency requirements, such as Sarbanes-Oxley, FDIC, GDPR, SEC and/or HIPAA.
Using the ITIL Security Management process framework provides common, well-understood concepts and terminology so people clearly understand the reasons behind the security policies and procedures, as well as potential risk to the organization if they are not observed and followed. All organizational information is evaluated, risks assessed, and appropriate policies to control access and dissemination put in place.
Process Components
The ITIL Security Management process includes these components:
Getting Started
Left Column
Take the Next Step
Read the guide: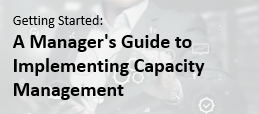 Middle Column
Explore the software: