What is IT Service Continuity Management?
Text
IT service continuity management (ITSCM) helps you develop IT infrastructure recovery plans. This helps support overall business continuity management (BCM) plans and timeframes. IT service continuity management is also one of five components of ITIL service delivery.
You might know IT service continuity management as disaster control plan (DCP), disaster recovery planning (DRP), or simply disaster recovery (DR). Whatever term you prefer, ITSCM is critical to developing infrastructure recovery plans.
Your IT team should work closely with business continuity management (BCM) departments. The goal of this collaboration is to ensure plans and alternative service options are in place—before a serious business outage or service disruptions.
Benefits of Implementation
Why Implement IT Service Continuity Management?
ITSCM processes are a must if you want to prepare your business—and IT department—for disasters of any kind. Done well, ITSCM processes should:
Minimize disruptions in IT services
Reduce costs associated with disaster recovery
Prioritize the recovery of IT services in the event of a disaster
5 Common IT Service Continuity Management Activities
Text
Your IT service continuity management plans will vary based on your region. Your potential disaster recovery plans may need to account for earthquakes, floods, hurricanes, tornadoes, and/or terrorist activities.
1. Conduct a Business Impact Analysis
A business impact analysis will help you determine potential issues and recovery requirements. You should work with BCM and service level management (SLM) teams on it.
You can use predictive analytics to simulate a disaster scenario—and understand how it will impact your business. Software (like Vityl Capacity Management) can help you do this—and predict your recovery needs.
2. Take a Risk Assessment
Taking a risk assessment will help you:
Assess risks
Determine costs to mitigate those risks
Prioritize which recovery plans to develop
3. Translate Your Requirements
Do you know your recovery requirements?
If you don't, your top priority is to gather data that shows IT resource usage for each application or service.
If you do… Great, then you can translate them into your infrastructure and data storage requirements.
4. Test Backup and Recovery Plans
Doing what-if analysis can help you determine service performance on back-up servers.
So put your backup and recovery plans to the test. Implement them and test them on your infrastructure.
Be sure to experiment with various business continuity options. For example, test out consolidating and moving work to different servers.
Make sure they work. This may also include negotiating and signing contracts for alternate sites.
5. Review Your Plans
Once you've settled on a disaster recovery plan, you can't just sit back. You need to review it periodically to make sure it stays effective as your infrastructure and environment changes.
As you review and refine your plans, be sure to experiment with multiple scenarios. That's the best way to determine what resources you need to meet your
Put ITSCM Into Practice
It's time to ITSCM into practice. Learn how IT risk mitigation solutions can help you do it. The right solution should help you meet SLAs, prevent outages, and protect your revenue (and reputation).
READ THE BLOG
Getting Started
Left Column
Take the Next Step
Read the guide: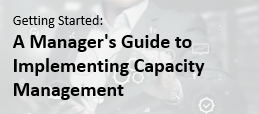 Middle Column
Explore the software: