What is ITIL Service Delivery?
Text
Image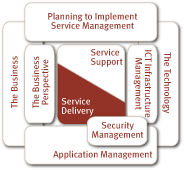 ITIL Service Delivery defines the business of IT—and it's one of two disciplines that comprise ITIL Service Management.
But what is ITIL Service Delivery? And why is it important?
Service Delivery is much like it sounds: it's the delivery of an IT service to a customer. Done well, Service Delivery brings the business and IT together to benefit the company as a whole—eliminating the detrimental "Us-versus-Them" mindset.
This is important because it performs a service the customer cannot do—and provides great value. Service Delivery should foster a corporate behavior for responsible use of IT services while maximizing corporate profits.
Effective Service Delivery processes should:
Clearly define the content of IT services
Clearly define the roles and responsibilities of customers (those who pay for the services), users (those who use the services), and service providers
Set expectations of service quality, availability, and timeliness
Services need to be tailored to meet the specific business needs of the customer at a price they can afford. By establishing clear Service Delivery processes, you can easily figure out how to provision services with the right mix of internal staff/resources and external vendors.
Being able to measure results of services is key to Service Delivery, too. Meaningful metrics can be used to drive continuous service improvement.
Key Components
Any effective Service Delivery strategy is comprised of five key components:
1. Service level management
2. Financial management for IT services
3. Capacity management
4. Availability management
5. IT service continuity management
Text
Service level management (SLM) is arguably the most important set of processes within the ITIL framework.
What are SLM processes? SLM processes define IT and business roles and responsibilities. This is important for establishing clear goals for Service Delivery. And clear goals make it easy to measure and report on success factors.
Why use them? They ensure that the business receives appropriate levels of service at a reasonable cost.
Here's how. SLM processes provide the framework to:
Define services
Provide levels of service needed to support the agreed-upon processes
Develop and satisfy service level agreements (SLAs) and operational level agreements (OLAs)
Outline costs for the services developed
Gathering and storing historical performance data helps the SLM team set the customary levels of service that the business is currently experiencing. With this data in hand, the SLM team can then work with the business to ensure services are efficient and cost-effective—while satisfying business needs.
You could put a lot of work of your own team in creating an SLM process strategy. Or, you could harness the power of IT service optimization software to easily develop effective SLM processes.
Plus, IT service optimization software can be used to determine the additional infrastructure resources required, as well as the costs associated with those changes. Next-level performance data and reporting tools can even be used to monitor service performance and alert the team to adverse trends and/or problems. 
Where service level management defines and manages the services, financial management determines the costs of those services and provides financial accounting support. In short, they ensure expenditures fall within approved plans and that funds are spent well.
The role of financial management varies depending upon the view of IT within the corporation. Some companies consider IT an expense center. Others view it as a profit center. And still others consider it a cost recovery center. Depending on the role of IT in an organization, there are different best practices for financial management.
Charge-back processes—the processes of applying the costs of IT services to the business unit in which they are used—are critical for effective financial management. Without proper tools, however, it can be difficult to harvest historical server process data.
With data collection software—like Vityl's—IT teams can gather data in a common format across disparate platforms. From there, it's an easy task to either develop a simple billing program or extract data to be imported into existing billing programs.
Capacity management (CM) is important to ensure that IT infrastructure resources are in place to satisfy planned business needs. It also makes sure those infrastructure assets are effectively used.
Incorporating CM into your IT organization is critical. The right CM strategy ensures that IT service is proactive, rather than reactive. Done well, CM will find application and infrastructure bottlenecks that might occur down the road. Instead of reacting to those issues later on, you can take corrective actions before any users experiences a service issue.
There are two ways to use CM effectively. You can use it to build your annual infrastructure growth plan. You can also use it to optimize the application lifecycle. In this case, it helps you determine the implementation and predict the ongoing support costs of new applications or releases.
With capacity management software—like that provided by Vityl—you can develop precise capacity plans and reduce the risk of future slowdowns or failures.
When selecting software, look for a combination of data collectors, archive database, and reporting and simulation tools. These will help you in predictive modeling efforts—from predicting future requirements to test-driving new equipment.
You should also have access to historical data that you can then use for analysis of application performance. This helps you identify performance improvement opportunities. Plus, it can play a big role in extending the life of existing IT assets (and delaying costly upgrades).
Availability management ensures that your application systems are up and available for use. This is especially critical when it comes to meeting the conditions of your service level agreements (SLAs).
Availability management also plays a lead role in component failure impact analysis (CFIA) and service outage analysis (SOA).
To make sure that you have the most cost-effective contingency plans in place, you'll need to follow availability management processes. Testing those contingency plans on a regular basis is advisable to ensure your business needs are met.
Using IT service optimization software—such as that provided by Vityl—will help you fulfill your availability management needs. Collecting historical performance data is especially crucial to analyze causes of service outages and failures.
Your software should shorten the diagnosis process to reduce downtime, improve staff productivity, and reduce the time that customers are inconvenienced. 
IT service continuity management (ITSCM)—also known as DCP, DRP, DCT, or simply DR—takes disaster recovery planning to the next level.
Developing IT infrastructure recovery plans can be difficult. But ITSCM provides the framework you need to support your business continuity management plans and timeframes.
Because every region has different disaster risks—earthquakes, floods, hurricanes, tornados, and/or terrorist activity—ITSCM plans vary. It's important to consider the risk your region is prone to prior to developing your plans. That's where effective ITSCM comes in.
IT infrastructure monitoring software can help you balance risk and cost when planning for disaster. It will also help you develop effective prevention techniques to better protect important business records and information. 
Getting Started
Left Column
Take the Next Step
Read the guide: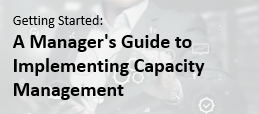 Middle Column
Explore the software: