Image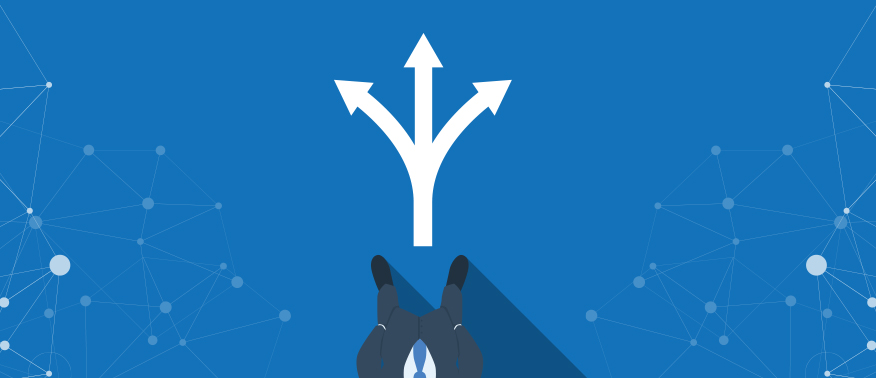 It seems like every day there's a new type of business technology designed to automate your manual tasks. It's not hard to understand the benefit of handing tedious jobs off to automation software. You save time, save money, and save yourself from a lot of headaches. What's more difficult is understanding your automation options. With so many tools on the market, which ones are best for your organization?
Two of the most common terms you'll hear are job scheduling and business process automation (BPA). This article introduces the similarities and differences between BPA and job scheduling and helps you make the best decision for your business.
What is Job Scheduling?
Anyone in the IT industry has probably used a job scheduler. Job scheduling—also known as batch job scheduling or batch processing—has been around for decades. Job schedulers emerged as tools for executing tasks or batch jobs after hours, or to free up IT operators from daily maintenance work. They typically take care of activities like database updates and file transfers.
But the job scheduling landscape is much broader than it used to be, with job schedulers ranging from simple to complex. Some job schedulers are simple tools built into systems, like cron or Windows task scheduler. Other enterprise-class job schedulers, commonly called workload automation, are capable of powering automation across your enterprise. They are capable of interfacing with every application and every automated process in your organization and automating workflows from a central location. These schedulers often have features like:
Event-driven scheduling: Tasks can be set up to run in response to, or as part of a sequence with, other activities. The scheduler can even check for required resources before initiating the job.
Forecasts: A scheduler may project a job's expected run time and identify gaps in the overall process.
Notifications: Enterprise job schedulers give operators real-time, automatic notifications about jobs via SMS or email.
Role-based security and auditing: Make sure that everyone has only the access to your job schedule that they need, and that detailed reports are produced for compliance.
What is Business Process Automation (BPA)?
Business process automation is a broad term encompassing many types of software. The common thread is that BPA tools are usually aimed at achieving business objectives and are not limited to the IT department. Gartner defines BPA as "the automation of complex business processes and functions beyond conventional data manipulation and record-keeping activities, usually through the use of advanced technologies. It focuses on "run the business" as opposed to "count the business" types of automation efforts and often deals with event-driven, mission-critical, core processes."
The advanced technologies used may include robotic process automation that manipulates the GUI of any business application. Other business process automation solutions go beyond basic RPA to integrate with backend processes. Like enterprise-class job schedulers, top business process automation tools offer DevOps enablement, support for meeting SLAs, and security features.
Business process automation is the ultimate in flexibility—automate any process across any department in your enterprise.  
Job Scheduling as a Starting Point
A job scheduler excels as the core of your automated operations. Your business probably has a variety of automated solutions, from RPA to custom scripting. Your enterprise job scheduler can sit on top of your entire technology stack and smoothly orchestrate a continuous workflow.
Start with an enterprise-wide job schedule powered by a robust workload automation tool, and build out your business process automation from there.  For example, a retail organization might start with workload automation software that pulls sales and inventory information from every store each night and feeds it into a central ERP system. Gradually other processes across the organization are automated with BPA, including processing returns, issuing loyalty rewards, creating store signage, and more. The possibilities are endless, and the original workload automation tool can centrally manage the entire job schedule.
Image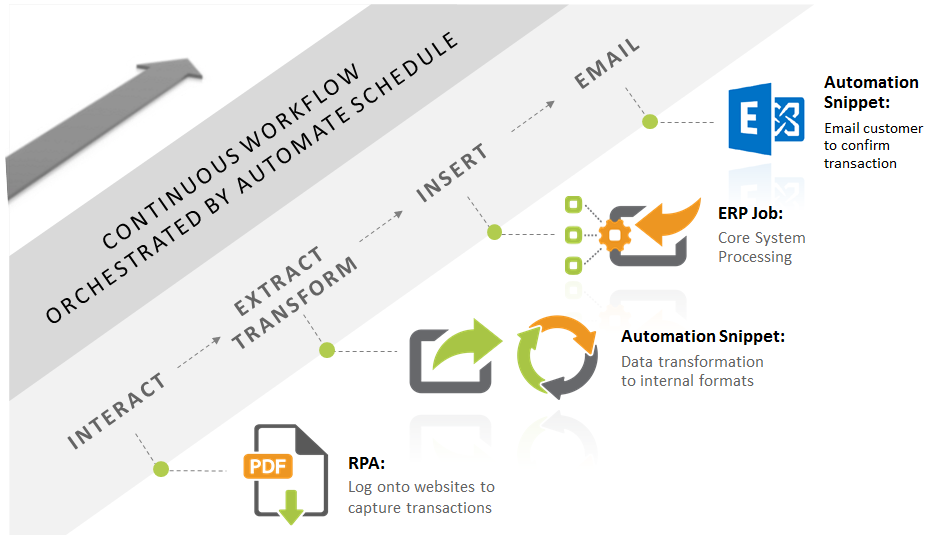 Enterprise Job Scheduling and Your Center of Excellence
These days, most IT and business professionals are aware of the benefits of automation, but deploying automation software requires planning and strategy. In recent years, the center of excellence (COE) model has emerged as a successful formula for maximizing automation ROI.
An automation center of excellence includes the people, processes, and technology necessary to maximize the benefits of automation. An automation COE treats enterprise automation as an ongoing project under central management that encompasses any types of automation you use, including both job scheduling and BPA. It is crucial to finding new automation opportunities, scaling your automation within the organization, and carrying out a long-term vision.
Learn more about creating your COE in the Business Leader's Handbook for Building an Automation Center of Excellence.