Media
Image

Text
Selecting the right automation strategy for your business requires understanding your goals for robotic process automation (RPA), both now and in the future. By streamlining manual processes and reducing the burden on human employees, RPA enables your organization to leverage a scalable, digital workforce to achieve greater levels of performance and efficiency.
Yet understanding your own automation journey means having insight into four essential areas—the emerging RPA landscape, your existing need for automation, considerations for scaling automation over time, and the role intelligence will play in your approach. While each organization's RPA journey is unique, knowing the transformative role that automation plays—and will continue to play in the future—is vital in how you plan to move forward. Let's dig into these four key areas that you should consider when evaluating your own needs and goals for automation.
#1: The Emerging RPA Landscape
Robotic process automation is changing the nature of business today. Advancing further into automation this century, organizations should understand how RPA will continue to transform their workforce. According to Gartner, RPA software has been recognized as one of the fastest growing software segments in the last few years, growing by more than 60 percent. Another report from Deloitte indicates that up to 50 percent of tasks performed by employees are considered mundane and labor intensive, opening opportunities for RPA to replace upwards of 16 percent of repetitive duties by 2025. In fact, the World Economic Forum Report predicts the 'robot revolution' will actually create 58 million net new jobs with emphasis on reskilling and upskilling employees.
With the digital shift to RPA firmly embedded across organizations and industries—from banking and finance to healthcare and insurance to human resources and call centers—it is important to understand the three primary types of automation providers available today.
Automation solutions offered by the largest enterprise providers tackle processes that have a significant impact across the organization. These providers offer solutions and services that are usually implemented by consultants or well-trained users. This is because automation solutions offered within this category are difficult to scale on their own, require a more consultative approach, and typically come with a higher price tag. However, enterprise-wide automation typically offers a wide range of essential RPA features and advanced capabilities like cognitive and AI functionality, enabling organizations to build a well-connected enterprise.
On the other end of the spectrum are RPA vendors that offer impressive low-code or no-code automation that focus primarily on individual or personal productivity. These types of tools offer solid, single user automation that is intuitive and straightforward for users, and can tremendously boost efficiency at the individual level. But these solutions focus less on automating process complexity and can lack more sophisticated automation functionality.
In the middle of large-scale and single user automation providers are solutions, like Automate RPA, which offer powerful UI with back-end automation capabilities and more flexibility to scale across people, teams, and processes. Providers in this category enable both individuals and teams to streamline processes and automate end-to-end workflows across the business.
#2: Your Current Needs for Automation
In order to reach your shorter-term automation goals, you should start by evaluating your current automation needs and ask yourself a few key questions. Are you looking to increase personal productivity? This means automating mundane tasks, like processing emails, setting up notifications, or organizing files. Personal productivity automation is employee-driven, and used in tackling multiple tasks for productivity gains at the individual level.
Image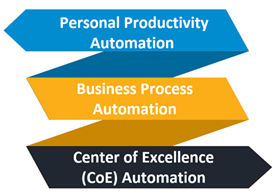 Maybe your automation target is to streamline business processes, such as processing a high volume of invoices or moving data from one system to another. Business process automation (BPA) is employee-driven, but used to streamline business processes that result in efficiencies and productivity gains across users and departments.
You may be considering automation as an ongoing project, often referred to as an automation Center of Excellence. Businesses of all sizes can benefit from an automation CoE, which focuses on intricate, enterprise-wide automation and orchestration.
While each of these use cases are not mutually exclusive, they do require a unique set of characteristics. For example, CoE driven automation is fairly complicated and has a significant influence on automating connected processes. Conversely, RPA tools that are deployed across the organization with a focus on business or power users typically emphasize ease-of-use and time-to-value as the most important characteristics.
At the individual level, the actions of a personal productivity tool target those tasks that increase efficiency gains quickly. By understanding your current automation goals and strategies, you can choose the right place to start that best meets your automation needs now.
#3: The Cost to Scale Automation for the Future
Knowing up front what you are going to pay for your automation solution is essential in scaling for the future. You do not want to encounter any 'gotcha' pricing that diminishes return on investment as you get further and more mature in your automation strategy. When you encounter unexpected costs that diminish your ROI as you scale, it is difficult to justify additional spend for expanding your automation initiatives.
When evaluating RPA solution providers, you should consider several factors when it comes to scaling automation. First, it may not be cost effective to scale with some RPA providers as they require you to pay extra for add-ons,  they employ linear pricing structures, or they charge for attended versus unattended bots. Second, some RPA solutions lack usability when scaling. Specifically, they require intensive consultation services, need high-level programming support, or are narrowly focused on individual productivity for single users.
#4: The Role of Intelligent Automation
Robotic process automation is extremely well-suited for automating routine tasks. But as artificial intelligence, machine learning, and predictive analytics are introduced and refined, automation will become more sophisticated, augmenting human capabilities and enhancing decision making across organizations.
Whether known as intelligent automation from Forrester or Ernst & Young (EY) or intelligent process automation from IDC, intelligence that is integrated in lockstep with RPA will broaden the range of processes that can be automated within your business. In essence, intelligent automation considers the entire lifecycle of an automated process across tools and functions, and with regard to overall complexity.
Deloitte indicates 47 percent of organizations have already combined RPA and AI as part of their intelligent automation strategy. Similarly, Forrester predicts 25 percent of all RPA solutions will be provided through intelligent automation suites by the end of 2021, and one in five enterprises will expand their investment in intelligent document extraction by the end of 2021. Augmenting automation with intelligence will also lead to greater cost savings for organizations. In fact, Gartner predicts that by 2024, companies that leverage automation and intelligence will reduce operational costs by nearly 30 percent.
What Makes Automate RPA Unique: Built and Priced Right for Employee-Driven, Enterprise-Wide Automation
Automate is uniquely positioned within the RPA landscape—helping you achieve your automation goals now and setting you up for where you want to go in the future. As a well-rounded, complete automation solution, Automate RPA has the flexibility to streamline mission-critical IT and business processes across your organization, offering no-code automation with unrestricted bots to maximize efficiencies, eliminate manual tasks, and decrease costs.
Focus on Scalability and Simple Pricing
One important differentiator of Automate RPA is that it provides automation that empowers scalability. Automate is not priced based on the number of tasks or processes, which means you can build long-term automation assets for your organization. With Automate, you can run attended or unattended bots with no restrictions, and integrate with any application or system without the price going up. This means there are no unforeseen charges that decrease return on investment as you widen the scope of your automation projects. Automate even offers an unlimited bots and studios option with Automate Ultimate for unlimited automation potential.
Leverage a Complete Solution
Automate offers powerful functionality, including an API integration framework, control logic, native integrations, cloud native actions, and optical character recognition (OCR) technology. Our unassisted machine learning framework provides robust capabilities for document classification and data extraction.
Because data entry and document processing cause a major strain on employees, our intelligent document processing solution eliminates the need for manual interaction and human touchpoints. By automatically capturing data and documents as they enter your organization, Automate Intelligent Capture helps you easily handle common data in uncommon places—and make that data usable across your business.
Automate offers a complete solution beyond software—from RPA trainings and the RPA certification to a user-to-user community to the wide range of services that optimize your automation initiatives.
Get Up and Running to Realize ROI Quickly  
With a one-of-a-kind, rapid implementation, Automate enables you to get up and running within days and then add layers of more sophisticated automation actions later. The Automate Recorder empowers simple, do-it-yourself UI-driven automation without writing a single line of code. Included as part of the top-rated Automate RPA solution, the Automate Recorder provides the right balance of flexibility and power suited for real-world, complex recordings.
With Automate, you can easily build bots with form-based development and 600+ pre-built automation actions. Automate also empowers users to get started right away and expand or tailor their automation efforts with the Automation Connector Hub, offering more than 150 free pre-built bots available for download.
See Why Customers Love Automate
Automate RPA offers unparalleled value in the market and is consistently ranked as a top provider by customers in multiple categories. According to the Info-Tech Software Reviews Report, Automate ranks first in usability and intuitiveness, breadth of features, ease of data integration and IT administration, code-free programming, and quality of features.
Customers also rank Automate RPA as essential to their own success, with 92 of respondents indicating Automate is critical to their professional success and 100 percent of customers indicating they will renew. And when it comes to G2 reviews, Automate receives top rankings in multiple categories, including ROI, ease of use, most likely to recommend, and highest user adoption.
Consider Automate for Your Own Automation Needs
See how Automate meets your needs for automation. Download a free trial of Automate. 
Start My Free Trial