Networks are not static pieces of infrastructure. Networks grow more complex every year as technology changes, trends shift in the culture of work, or when your organization grows. Eventually, the time will come for you to upgrade your network—most likely sooner rather than later.
While every network faces different challenges, we've identified three key areas that are currently seeing the most change for organizations needing to grow their network infrastructure. With these helpful tips, you'll be able to recognize how to better meet the needs of your network and fine tune your network upgrade strategy.
Image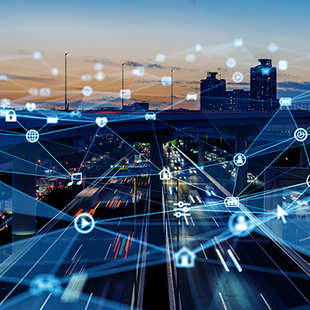 Text
Enabling Remote Work
Due to the pandemic, the biggest challenge facing IT teams right now is supporting the demands of remote and hybrid work. While short-term solutions provided a quick fix during lockdowns, more permanent solutions are needed for companies adopting full-time or hybrid policies. The goal is to provide every employee with access to the systems and business applications they need, no matter where they work, which means taking a closer look at infrastructure—especially cloud—and upgrades to increase bandwidth.
Provide increased bandwidth so that your infrastructure can support all the incoming VPN and remote connections.
How do users authenticate to your corporate networks and applications? Besides VPN connections, you'll want to implement single sign-on (SSO), and multi-factor authentication (MFA) to ensure everyone connecting is verified and protected.
While the ultimate goal is ensuring employees have access to what they need, another side of that is the ability to lock down user access to certain privileged data. This means setting up policies that restrict access to sensitive data once inside the network.
It's not just employees accessing your network—collaboration and restriction policies need to be in place for third-party contractors.
Proactive monitoring solutions must be in place to not only monitor core on-premise infrastructure, but also any potential end points from outside devices (BYOD) to recognize potential threats inside and outside.
Migrating to the Cloud
Migrating to the cloud has been a big trend over the last couple years and is growing larger as it's a helpful way to support remote work. But migrating to the cloud is not without its challenges. Cloud migration must be carefully planned out prior to any movement to ensure all bandwidth, infrastructure, and security and data concerns are addressed—and don't forget a potential roll back option.
The biggest advantage to cloud migration is allowing your organization to reduce your physical footprint and your budget spend on areas such as equipment, computer rooms, and data centers.
But before jumping to the cloud, you need to ensure that your core resources, applications, and business functions, and your cloud platform, can support each other through integration technologies like APIs. Plus, you need to determine if your cloud provider can scale with your business and provide seamless support.
Do you  have  proper network bandwidth and internet connections to support your cloud infrastructure? That's the major factor in determining if a cloud migration will provide benefits that outweigh local access.
If your business is dependent on accessibility and availability, service level agreements with cloud providers need to have support and uptime guarantees. And don't forget to have disaster recovery and business continuity plans in place should anything go awry.
As security remains top of mind for IT teams, security functions for where data is being stored and how it's protected should be a big factor in your cloud planning.
Upgrading and Expanding Switches
Switches provide fast and healthy performance of your network devices. As your business and network grow, you'll need to upgrade and expand your switches to keep everything running smoothly. With optimally functioning switches, you'll be able to better share applications across networks and locations, increase access to real-time information, and improve network management.
As you plan on upgrading your switches, focus first on your core infrastructure, then branch out as needed.
Determining your Internet pipe is important as this provides a backdrop to what bandwidth size you want your switches to support whether MB or Gig, 10Gb, or other.
Understand the current amount of traffic being utilized on your network to give you a baseline that will help you determine the level of your switch upgrade.
Consider using Power of Ethernet (POE) technology as it can provide a segue into supporting wireless IP phone technology for better scalability.
Understand that supporting disaster recovery requires duplicate network components for your production and DR environments.
Prepare for Upgrades with Network Monitoring
With all these tips, an in-depth knowledge of your network is the key to a successful upgrade experience. And the best way to see the full picture of your network is with comprehensive network monitoring software. Intermapper, from Fortra, shows you your entire network—not just IT's—with dynamic network mapping that gives you full visibility to your network's health and provides real-time documentation of the network. Network monitoring helps you keep your existing infrastructure, equipment, and devices working optimally while helping you easily determine when it's time for an upgrade.
Ready to Upgrade Your Network?
Talk with our network monitoring experts about your existing pain points and network performance goals and see Intermapper in action.
REQUEST A DEMO