Media
Image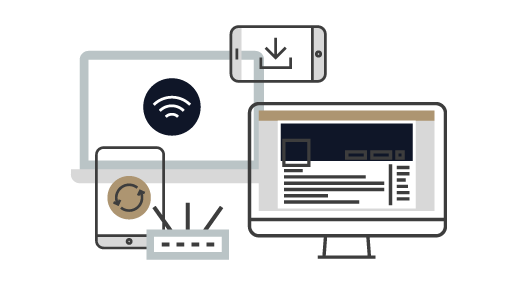 Text
Every network administrator has devices that should be monitored. Traditional hardware like routers, switches, and firewalls. Physical and virtual servers. Endpoints.
Then you have more technology that could be monitored. Smart boards. Security systems. Wireless technology. ATMs.
With Intermapper, you can monitor it all.
Intermapper is a flexible network monitoring application that can monitor your entire distributed network, whether your equipment is physical or virtual. If your device has an IP address, Intermapper can monitor it, regardless of whether it's from Cisco, Apple, Dell, or other vendors. Using powerful probes and common protocols, Intermapper polls your network fast, bringing back real-time data. That data gets displayed in live, color-coded network maps with the current status of all your devices. With an intuitive display and 24/7 monitoring, Intermapper provides the answers you need to make troubleshooting fast and efficient.
Get Insights on Any Device, Thanks to Probes
Media
Image
Text
What is a probe? A probe is a software plug-in that retrieves information from a device. Intermapper uses probes to gather specific metrics from devices—e.g. CPU utilization, availability, or packet loss. You tell Intermapper what normal metrics ranges are for each device. Then probes go out and poll devices in real time to make sure they're performing normally. When Intermapper discovers a problem, the map will update, and Intermapper will send an alert so you can dig in immediately.
Intermapper comes with over 100 built-in probes to help you monitor all your physical and virtual devices. For more specialized monitoring, you can create your own probe or explore our user-contributed probe library.
Poll Every Device—Efficient and Fast
Media
Image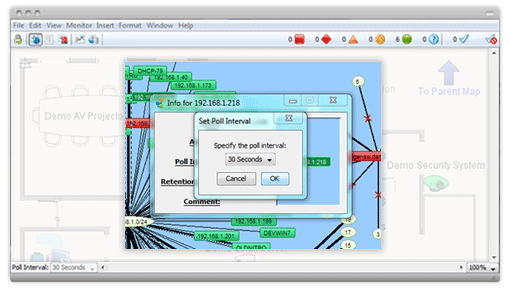 Text
Intermapper has a lightweight, lean polling engine that balances comprehensive monitoring with speed. Even if a device is slow to respond, the polling continues at high speeds. Polling happens separately from graphics rendering so that the network monitoring process can run efficiently at high speeds.
You can set custom polling intervals for your network based on the data you're looking to capture and how important it is. For instance, poll critical devices every 30 seconds, and non-critical devices at a longer interval.
We chose Intermapper because of its affordability, ease of use, and flexibility, and haven't been disappointed. The ability to monitor every device and the strength and state of the network in real time has helped us keep the network operating at peak efficiency.
Vince Hurst, Communications Technician, Sonoma County Sheriff Department's TCOMM Bureau
Keep Core Servers Up and Running
Media
Image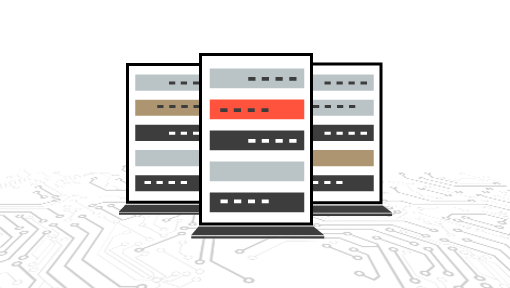 Text
Keep your physical or virtual servers operating around the clock. Intermapper monitors services using SNMP, TCP, HTTP, and other standard network protocols, measuring response time and verifying that the responses are correct. Set up alerts for when a service stops running, a response time exceeds pre-set thresholds, or other network server health issues are detected.
Use Intermapper to monitor any of these and more:
Windows Management Instrumentation (WMI) and Windows/NT Service tests
Host Resources MIB via SNMP
Exchange Server
Barracuda Spam Filter (and other Spam filters)
Integrated Processor Management Interface (IPMI)
Monitor Business-Critical Applications
Media
Image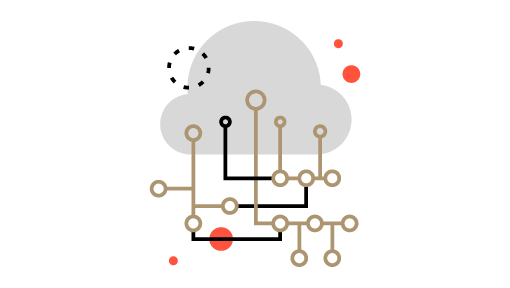 Text
When you use Intermapper for application monitoring, you can make sure mission-critical software tools like enterprise resource management (ERP) or customer relationship management (CRM) are always up and running. Intermapper alerts you to slowdowns or failures before users or customers are impacted, so you can resolve performance issues faster. Reliable application monitoring gives you better organizational productivity, provides data to answer stakeholder questions about what happened, and helps you meet SLAs.
Intermapper can monitor and report on business-critical applications such as:
ERP software
CRM software
Email and web services
Manufacturing applications
Videoconferencing and VoIP equipment
Use Mobile and Web Access for On-The-Go Monitoring
Media
Image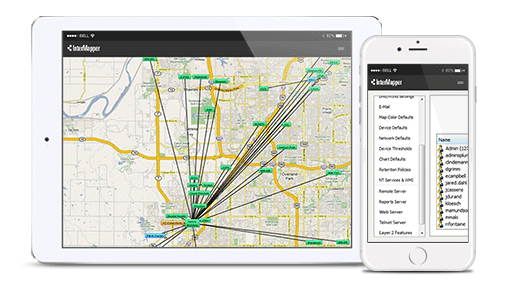 Text
Keep a close eye on your network from anywhere, whether you're at home, out to lunch, or with a client. Intermapper's responsive web interface helps ensure proactive monitoring wherever you are. The web interface is easy to access from your tablet or smartphone browser, giving you the ability to check and acknowledge network issues directly from your devices at any times.
Intermapper's mobile monitoring functionality increases your efficiency and helps you be more proactive than ever before.
See a Single, Summarized View of Performance
Media
Image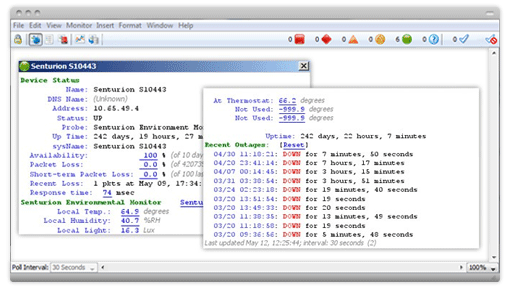 Text
Status windows give you quick access to the metrics you need. See static information like device name and IP address as well as dynamic metrics such as response time, availability, transactions per second, memory utilization, temperature, and more.
To open a status window from your map, simply right click on a device or interface to see a single summary of data. Chart values over time to see how a device has performed over time.
Create Custom Notifiers for Specific Actions
Media
Image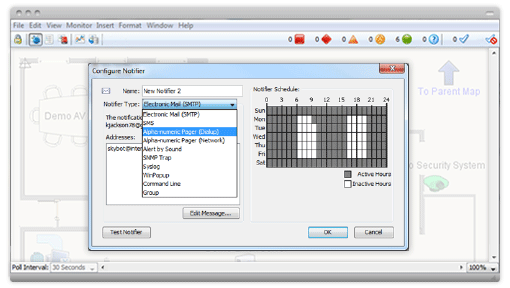 Text
Intermapper alerts are totally customizable to your preferences so that you know what you need to know when you need to know it. You can configure Intermapper alerts to deliver in whatever method you prefer, whether that's email, text, sound, or another notification method. For major issues, you can set repeat intervals to make sure the alert is delivered to the right person. For minor issues, you can set delays to avoid receiving notifications for short outages or minor problems that you don't want to be bothered by.
Escalating problems is also simple with Intermapper. If a device goes down, you can immediately alert the tech on call. You can also set a delay, and if the device remains down that entire time period, Intermapper will send the alert to a larger group to guarantee a response.
Get Started
Maintain constant awareness of network performance from home or the office with a user-friendly network monitoring tool. Try Intermapper for free for 30 days.
START A FREE 30-DAY TRIAL
For organizations with a small IT infrastructure, our fully-functional free version lets you map and monitor up to 5 devices. It's quick to install, intuitive to learn, and easy to manage.
Download the free version