Media
Image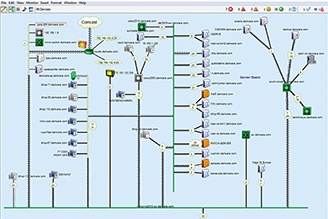 Text
Network mapping is a process of documenting all the technology in your network to get full visibility. Who has time to manually do that? With network mapping software, you'll never waste time creating (or updating) tedious diagrams with Microsoft Excel or Visio.
Intermapper is network mapping software for Windows, Mac, and Linux. See your entire environment, not just IT's network, in real-time. No refreshing required.
Intermapper network diagrams auto-discover anything with an IP address, including all your physical and virtual equipment and places it on a network map. Personalization allows it to fit your real-life network. Change the layout, customize the icons, change the background images... your options are endless! Next, rely on live animation to draw your attention to trouble spots. With the visibility you need, troubleshooting network issues is suddenly 10x faster.
Find and Diagram Network Devices Quickly with Autodiscovery
Media
Image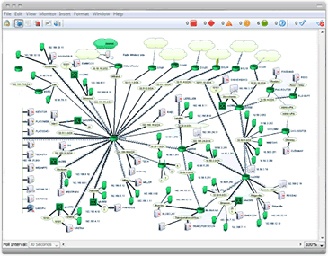 Text
Autodiscovery makes it easy to get a visual inventory of network devices faster. With a network mapping tool like Intermapper, you can import devices and begin creating maps in minutes. Whether you want to diagram your entire distributed network, just an IP address range, or a single subnet, you can— it's your map.
Capture previously undetected devices, then move them to an active network map for ongoing monitoring. Autodiscovery eliminates tedious manual work and ensures you've captured every device. Alerts can notify you when new devices are discovered so you always have immediate knowledge of what's connecting to the network. Plus, users can export maps to Microsoft Visio and .SVG format.
Network Mapping Software Provides a Live Snapshot of Network Performance
Media
Image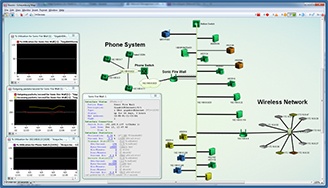 Text
How's that router you installed last week performing? Network mapping software can tell you. Intermapper's live color-coding and animation bring your network to life as it is now, not ten minutes ago, so you're always aware of network health. Maps allow you to instantly see:
Live device statuses: Icons light up by color to indicate the severity of their status, so you know exactly which issues to tackle first.
Intuitive animation: When traffic exceeds the thresholds you've set, you'll see animated traffic indicators that make it easy to spot congestion.
Physical connections: See how network equipment is connected so it's easy to see how one device issue will affect the rest of your network.
Traffic metrics: Double click on a device and get a pop-up displaying availability and traffic metrics, updated at the intervals you set.
Familiar icons: Based on your preferences, choose from 100s of basic shapes and icons, or import your own, to customize your map exactly to your liking.
Network Mapping Capabilities with Intermapper
Media
Image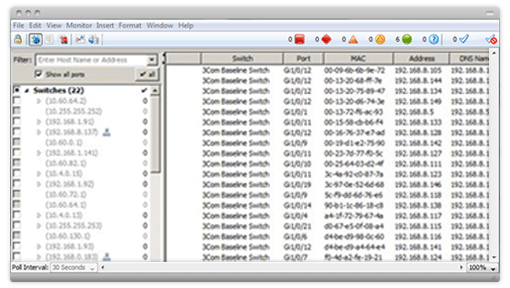 Text
It has always been challenging for network professionals to reliably document where equipment is connected to a switch. This is all the more true given the growing use of wireless devices and VLANs. Intermapper's Layer 3 module enables easy auto-discovery and connection of devices to the correct switch port, giving you a granular view of your network connections. It's also much easier to manage your network technology.
With this powerful network mapping tool, you can:
Understand the impact of changes by maintaining a complete inventory of all equipment
Ensure you have full awareness of equipment accessing your network
Respond to regulatory requirements and remain compliant with a documented network map
Personalize Your Network Maps with Intermapper
Text
Create Geographical or Sub-Maps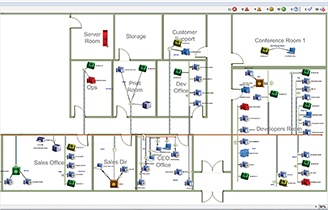 Change your map's layout to fit your preferences. Using geographical and physical maps, you can quickly identify the location of a problematic device on an office floorplan, campus map, blueprint, or Google Earth view. The sky's the limit!
With just a glance at your network maps, you could quickly identify:
Which room the problem server is located in
The exact cross streets of an access point that requires attention
Which remote office is experiencing network slowdowns
Make Complex Networks Simple with Hierarchical Maps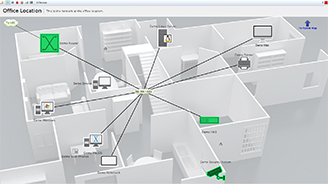 Many IT departments want a live visual of the network on the big screen. Intermapper's dynamic maps make it simple to share network performance with coworkers and others in the organization.
When new IT employees start, network diagrams make it much easier to learn the network topology. Maps can assist in training, troubleshooting, and more. Easily configurable user permissions make it easy to share or limit map access with those who need it.
Google Earth Integration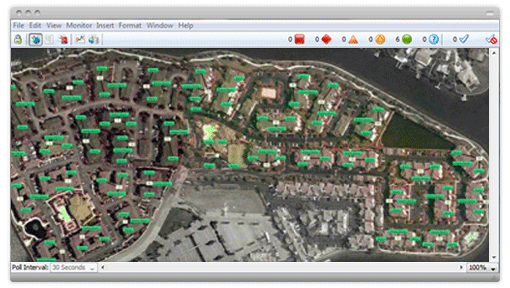 Is your network spread across multiple locations? A favorite feature for many Intermapper users is that a network map can be superimposed onto Google Earth. This makes it easy for non-technicians to view the network status at every location from a bird's eye view.
With Intermapper's Google Earth integration:
Your network equipment is represented by color-coded icons
Links between devices are shown as lines interconnecting the equipment
Status windows for each of these items are displayed when you click on them
Each network map is represented as a "Place" in Google Earth
Every job I've been hired for as a Network Administrator has gotten Intermapper on day one. Without it, you're running blind. When there is a problem, Intermapper makes it simple and fast to see where the problem is occuring. It's really an amazingly useful piece of software, and very easy to use.
Jay Duff, Network Administrator, Mannheim School District 83
Why Network Admins Love Dynamic Maps
Intermapper's live mapping capabilities give IT teams total visibility and unlimited options.
Text
| Feature | Dynamic Network Maps | Static Maps |
| --- | --- | --- |
| Create network maps in seconds, not hours. | ✔ | X |
| Get a live snapshot of network health with color-coded animation. | ✔ | X |
| Drill in to data (response time, packet loss rate, uptime, availability, etc.). | ✔ | X |
| Get notified when new devices connect to your network. | ✔ | X |
| Give IT staff permission to view and edit maps remotely. | ✔ | X |
| Make quick and easy updates to your map layout, icons, or background images. | ✔ | X |
Learn More About Network Mapping Software
Discover the Full Picture with Network Monitoring and Mapping Software
The best way to increase network visibility is with network monitoring and mapping software. Autodiscover your devices, drill into performance, and start proactively responding to network issues.
START A 30-DAY TRIAL